Zen-Center Schönböken/Jakkoji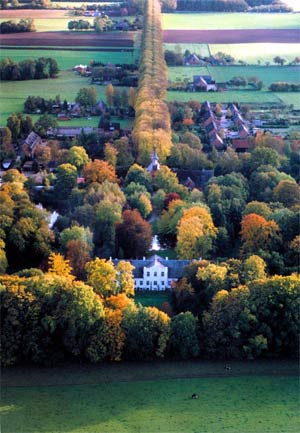 The Zen Center Schönböken Mokushôzan Jakkôji is the main venue of the German Zen Association. At this location Zen sesshins (intensive periods of Zen practise) and training periods take place under the guidance of Zen master L. Tenryû Tenbreul and his close disciples. In addition, the Zen center is open for people interested in practicing Zazen on a regular basis or participating in other Zen activities.
The Zen center is located in an old and formerly aristocratic manor which is more than two hundred years old. This facility consists of a neo-gothic mansion and a brick-lined gate lodge with a bell tower. The entire premises has a floor space of nearly five hectare (a huge park formerly designed as an English garden with ponds, bridges and many old trees).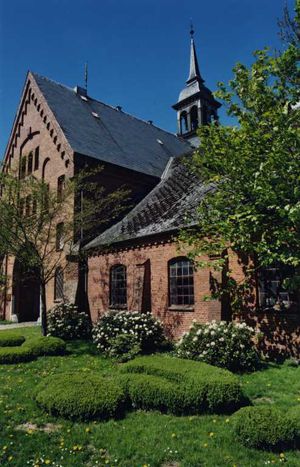 The property of Schönböken, which is located at the rim of the small village Schönböken – between Plön and Neumünster near the lake district of Schleswig-Holstein – was founded 1805 and has undergone an eventful history over nearly two hundred years. In 1989 its purpose changed again and it became the home of the authentically transmitted practice of Zen.
In Schönböken, mainly Zen sesshins (beginners will be introduced) and training periods are held (see information on the daily routine). Sesshin dates can be found in the annual programme.
Zen-Center Schönböken
Hauptstr. 1 • 24601 Schönböken
Tel. +49-4323-939360
Fax +49-4323-9693897
Mon - Fri 8.30 - 9.30am
EMail: info@zen-vereinigung.de
Zazen times outside the annual programme: Tue and Wed 7.30-9 pm, Sat 6-7.30 pm. For morning Zazen times please ask by email.